Welcome to ATLE!
With feet on the ground, ATLE's members and supporters provide hands-on insight, information, presentations and collateral to energize a college going culture in the landscape of diverse Texas neighborhoods and communities. With your volunteerism and support, we'll help ensure that every young Texan has the opportunity to dream, discover higher education opportunities beyond high school, and succeed in their ability to finance that education.
---

Our spotlight is on the TASFAA National Training for Counselors and Mentors (NT4CM) 2015-2016 Academic Year Workshops.
---
Our Spotlight...TASFAA 2014-2015 NT4CM Training Workshops!
ATLE is proud to support The Texas Association of Financial Aid Administrators (TASFAA) College Outreach and Early Awareness initiative. Every year TASFAA offers the US Department of Education's NT4CM (National Training 4 Counselors & Mentors) to our Texas High School Counselor's.
ATLE is pleased to be able to support their initiiative once again by providing information and registration support for all the 2014-2015 Texas sites.
---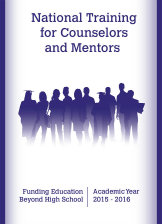 About NT4CM
NT4CM is a collaborative partnership between Federal Student Aid (FSA), the National Association of Student Financial Aid Administrators (NASFAA), the National Council for Higher Education Loan Providers (NCHELP), the American School Counselor Association (ASCA), the National Association for College Admission Counseling (NACAC) and the National College Access Network (NCAN). Over the past several years, NT4CM has advanced the important objective of helping counselors and mentors get the information they need to assist students in funding their postsecondary education goals.